Monday, March 19, 2012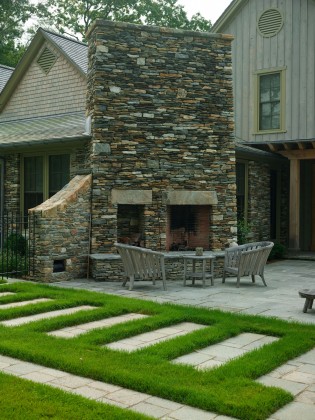 I was reading an article in the latest athome  (Moffley Media) called "Rock Stars", a piece on rock landscaping and rock design which becomes one with the house.  Well, if you want to see rock used in design and landscaping, you will want to see this new listing on Pear Tree Point.  As brokers we get to see beautiful houses and luxurious lifestyles that are a pleasure to bring to market.  This Pear Tree Point Sanctuary raises the bar for us here in Darien.   Certainly, the house and it's superbly designed (Architect Mac Patterson) and crafted interior is something that will excite a buyer, but the outside is what brings this house to a standard not often seen.
The stonework: the fireplace, with a double hearth, is the centerpiece of the outdoor living area. The masterly crafted walls are a work of art.  The perfectly proportioned floor plan of the grounds and pool area, along with the outdoor kitchen and guest house,  gives you an unparalleled entertainment compound .  The "piece de resistance" it is the replica of the Stone of Accord.  This upright stone with a hole in the center " has been used for centuries by tradesmen and married couples who would link their fingers through the hole signifying the renewal of their contracts".  (the original is at Old Head golf course in Ireland).
The sighting of the house on the property ensures fantastic views of the water from the inside, and complete privacy around the pool and outdoor entertaining space.  If you are looking for a stunningly thought out property, this is it.  Note: the seashells in the driveway are a wonderful touch.
This property is offered for sale at $7,395,000 through Doug Milne and Sheree Frank at Kelly Associates.  If you are interested in seeing it, please contact us.
If you are working with an agent, this is not a solicitation. THIS PROPERTY HAS BEEN SOLD