Custom tables from Mather Meadows Design
When Holly Hurd had her open house at 106 Stephen Mather Road (for sale through Kelly Associates) the first thing we noticed in her living room was the phenomenal glass coffee table.  A glass coffee table is one of those pieces that can be used beautifully in any living room.  As it turns out, one of Holly's many talents, and businesses, includes designing and manufacturing these glass coffee tables through her  Mather Meadows Design. They can be made in all sizes and shapes (side tables, end tables, consoles – pieces are special order to client's desired size). This table is gorgeous and makes a huge impact in a room filled with beautiful things.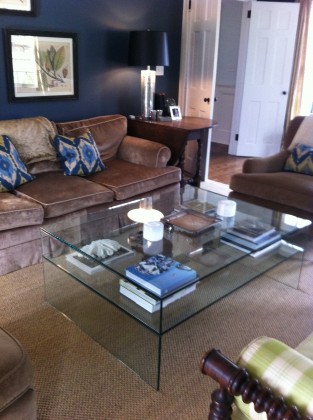 It has a bottom shelf where you can place your books and put more decorative items on top. The glass is so thick and the joints are seamless.  On a side note – we rarely see this blue in a living room and it just hits the mark!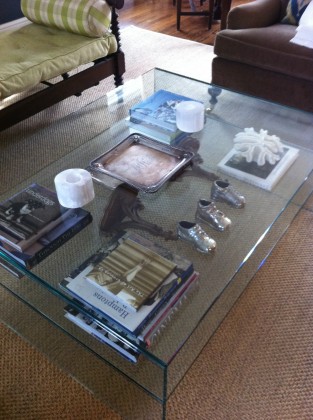 Holly was our very first blog post because everything she does we just love.  She has so many creative and design talents and these tables are just one of them.  If you are interested in designing your own table, contact Holly at Mather Meadows Design. You will not be disappointed.
hillhh@aol.com or 203-434-4201