Mags We Read
Mentioned In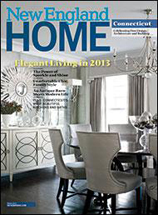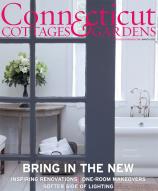 Posts Tagged 'Tokeneke Association'
Monday, October 6, 2014
One of our favorite colleagues, Peter Stuart, has listed 10 Searles Road. It is truly sublime.  A Fraser Peter house built in 1924 and renovated in 2010, it is a true example of beautiful, bespoke and cool. It pushes this house to the front of the line for Houses We Love!  It is the kind of house that makes the heart go pitter patter when noticing the simplest details such the door hinges and the window hardware.  It's always in the details, isn't it?  It's the kind of house that gives hope in the search of a special and unique home. Six bedrooms, four and a half baths, set on a little more than a flat acre in the middle of Tokeneke Association. Asking $3,150,000 offered through Kelly Associates.
Of course the beautiful fabrics and furniture won't be here when you move in, and if you did change the wallpaper I am thinking Katie Ridder would be a perfect candidate for bringing a chic sophisticated style to this wonderful and quirky house.
FLOOR PLANS always help
The Lay of The Land
If you would like to see this glorious property, call us!  We would love to love to show it to you.
If you are currently working with an agent, this is not a solicitation.
Tags: 10 Searles Road, Katie Ridder, Tokeneke Association
Posted in Real Estate | No Comments »
Thursday, March 14, 2013
Frazier Peters was an American architect of stone houses between 1920 and 1950. He lived in Westport where most of his houses can be found but Tokeneke hosts several of these beautiful landmarks. One is back on the market after being on for some time last year. It has a new price of $2,775,000 listed through Kelly Associates, 5 bedrooms, 4764 square feet and 1 flat acre. It is empty which really shows off the handsome floors and details that make it a house that you can do something unique with.
I was looking at the work of Betsy Burnham of Burnham Design and thought this look would fit right into this space. What do you think?
Betsy is from the East Coast (can you tell) but now lives in Los Angeles.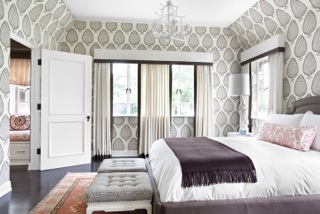 Photos by Burnham Design and Kelly Associates
If you are working with an agent, this is not a solicitation.
Tags: Betsy Burnham, Burnham Interiors, Searles Road, Tokeneke Association
Posted in Real Estate | No Comments »
PINEAPPLE IS A BOLD STATEMENT OF WEALTH, HOSPITALITY, AND WELCOME.
USEFUL ANYWHERE GENIAL GUESTS ARE GREETED AND ENTERTAINED.