French Charming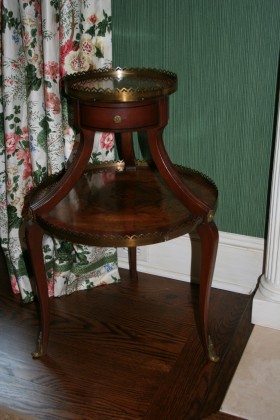 Day Three of The Showcase and another lovely antique to ponder. We move from the English to the French with this charming occasional table, comprised of buhl Walnut, Rosewood, and brass.  "Buhl" or "Boulle" is a type of inlay and marquetry method perfected by Andre Charles Boulle, the official cabinet maker to Louis XIV. The dark spot you see on the bottom shelf is the delicate pattern. This is truly a special piece and would be perfect for a bare corner, just waiting for some warmth and sophistication.
Price:  $500
E-mail mymfaulkner@optonline.net for assistance.
This item is no longer available.