Mags We Read
Mentioned In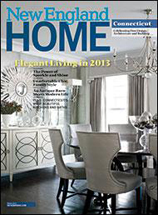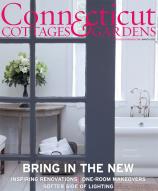 Posts Tagged 'Waterworks'
Monday, March 12, 2012
This Master Bath sold me at this home at 13 Oak Park Avenue!  The kitchen may not be as FAB as the Master Bath, but how can you top this Waterworks-like bathroom.  It is stunning and we love that the vanity is painted a grey/blue instead of white.   The vaulted ceilings make the room soar-something you can easily do if you go up and use the attic space.  Most likely you will not need that little bit of space in the attic and it will pay dividends with that extra height.  It can give you a reason to buy that chandelier you have been wanting to buy….perhaps a great vintage pagoda find (check out Circa Who for some great ones). Calcutta-gold counter tops and radiant-heated floors makes it feel like your at the Mayflower Inn in Washington, Connecticut.
It is so nice to see a center hall in a smaller home, and just adds to the graciousness.   The sky-lit hallway upstairs drenches it in light and makes it feel so open and spacious.  It is a shame the light fixtures are not included because they just give it that little yet important touch (but you can buy them at Circa Lighting so don't worry)!  For sale through Round Hill Partners in Greenwich.  If you are working with an agent, this is not a solicitation.  THIS HOUSE IS CURRENTLY NOT ON THE MARKET (5/4/12)
Tags: Circa Lighting, Circa Who, Master Bath, Waterworks
Posted in Houses We Love | 5 Comments »
PINEAPPLE IS A BOLD STATEMENT OF WEALTH, HOSPITALITY, AND WELCOME.
USEFUL ANYWHERE GENIAL GUESTS ARE GREETED AND ENTERTAINED.